PNW Extreme CX
Join us in October 2023 for USAC National ACXC Series on the beautiful Olympic Peninsula. You will not want to miss racing this great new venue that is sure to become a PNW favorite.
Register
Event Guide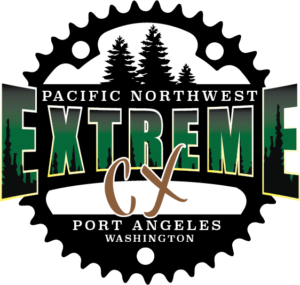 Promoting the benefits of healthy outdoor activities and supporting a healthy, thriving and inclusive community.
When
Sept 30-Oct 1, 2023
Where
Extreme Sports Park, Port Angeles, Washington
What
2023

USAC National ACXC Series racing
Peninsula Adventure Sports, Washington State Bicycle Association, Cyclocross Crusade, and Extreme Sports Park are excited to bring you a full weekend of ACXC National Series racing.
Exteme CX Port Angeles is a USA Cycling sanctioned race – Permit# 4609
Where To Stay
Camping
Extreme Sports Park will host camping at the race venue – See details in the Event Guild below.
Follow Us
Registration
One-day Pricing
Adult – Pre-registration until until October 31:  $30
Adult – Pre-registration November 1-26:  $40 
Nov 27-28: $45
Juniors – $20  – Nov 27-28: $25
Weekend Pricing
Adult – Pre-registration until October 31:  $30 first day, $20 second day
Adult – Pre-registration November 1-26:  $40 first day, $20 second day
Juniors – $20
Entry fee includes parking and one free beer or soda
Day of Registration will be available onsite. Save time by printing out a waiver (PDF) and completing it at home.
Refund Policy
If you register onsite for a race or if you pre-register and start a race, there is no refund available. Mechanical problems, missed starts, forgotten numbers, pre-race or in-race crashes, illness or lack of fitness, weather or even course conditions such as MUD, are not valid reasons for refunds. Under these circumstances, No Refunds Are Available, with No Exceptions.

If you pre-register for a race and are unable to start that race due to a legitimate injury and you advise us in advance of the race, we will credit your entry fee for one of our 2022 races. 
Covid-19 Safety Updates
This information will change often – please check back to see our requirements.
We will follow all regulations set forth by Clallam County and Washington State.
Course Map
Kevin Blair of Cyclocross Crusade is our course designer. 
This course has it all – up, down, off camber, mud, stairs, run ups and an occasional flat spot for you to catch your breath.  The course will change from Saturday to Sunday.
Categories
All Categories are based on USAC category guidelines. 

OBRA riders should request a USAC upgrade to align OBRA to USAC prior to registration. 

Singlespeed = A single speed bicycle is defined as a bicycle with no functional means of altering its gear ratio during the competition.

Junior = Rider with a racing age between 9 and 18 in accordance with USAC rules.
Prizes
Saturday: 6-pack of beer for winner, medals 3 deep

Sunday (WSBA Championship): Jerseys for winners, medals 3 deeps

Awards will be given 15-20 minutes after the results have been posted

All Washington, North Idaho and Oregon members are eligible to win WSBA championships, including gold medals and the championship jersey. All USAC/UCI and one day licensed riders are eligible to compete in WSBA championship events. However, racers from areas outside the USAC-defined geographic designation of the WSBA and one day license holders will not be awarded medals or championship jerseys.
Sanctioning
Extreme CX Port Angeles is sanctioned under the rules and regulations of USA Cycling (USAC). All rules, regulation and codes of conduct set forth by the sanctioning body will be in effect during the entirety of the event.
USAC Permit # 4609
Membership & Licenses
USAC annual or one day licenses are required to race.
OBRA riders should request an upgrade from USAC to align OBRA to USAC prior to registration.
Schedule
Time

 

Groups

Race Time

7:00
Day-of-race Registration
Opens

8:30-9:15

 

Men 4/5

Men 4/5 45+, 55+, 65+,

45

9:25-10:10

 

Master Men Open 45+ 55+, 65+,

45

10:10-10:30

Course Preview

 

20

10:30-11:00

 

Novice(5)Women*/Novice(5) Men*

30

11:10-11:55

 

Men Cat3, JR Men 17/18

45

11:55-12:10

Kids Race

 

15

12:10-12:30

Course Preview

 

20

12:30-1:00

 

Junior 10/12, 13/4, 15/16

30

1:10-1:55

 

Singlespeed (W & M)

45

1:55-2:15

Course Preview

 

20

2:15-3:00

 

Women

Cat1/2, Cat 3, Cat4/5, Master Open 45+, Master Open 55+ Master 65+, Women 17/18

45

3:10-4:05

 

Men

 Cat1/2, Cat1/2 40+, Cat 2/3*

55
*Non Championship Category
Equipment
Most bikes are legal – Mountain bikes, 'cross, cruisers, clunkers, etc. But take heed: courses will favor those on 'cross bikes – so choose your weapon wisely! Please no fixed gears or bikes with bullhorns or bar ends.
Pre-Ride and Course Preview
We ask that you please respect our pre-riding and course preview policy. Please do not pre-ride during or between races except during the specified course preview times listed on the schedule. Please respectfully obey any official's or race staff requests, especially when it comes to clearing the course.
Venue Notes
On-site drinking water

On-site bike wash

Pre-Ride on Friday from 3:00 – 5:00 PM. There will be NO FIRST AID provided during the Friday pre-ride. Participate at your own risk.

Team tent setup will be on Friday from 3:00 – 5:00 PM or day of race. Please weigh down and/or stake your tents. All Tents and vehicles should be 3 feet away from the course.

Overnight camping at Extreme Sports Park will be available. Space is limited.
Where to Stay
Camping at Extreme Sports Park
Cost $25 – Camp host will come around and collect and you will get a receipt to put on your dashboard
Check in is 4:30-10:00 p.m. After 10 p.m. contact the park host using the number posted at the gate.
RV / Car / Van camping only
Potable Water, Garbage and Recycling Provided
Portable Toilets 
No showers 
Code of Conduct
Extreme CX Port Angeles of Conduct:
The Extreme CX PA Code of Conduct is set out to provide a safe and accepting environment for all peoples to enjoy the sport of cyclocross.
We expect all participants, spectators, officials, staff, sponsors and other people associated with any  Extreme CX PA event or activity to adhere to this code of conduct as a principle of being a steward of the sport and spirit of cyclocross. In the unfortunate event in which a violation of these codes of conduct occurs, please contact any  Extreme CX PA Crew member or race official, or email contact@peninsulaadventuresports.com, to ensure everyone feels welcome and safe at  Extreme CX PA events.
Failure to adhere to the  Extreme CX PA Code of Conduct may result in expulsion and future exclusion from Extreme CX PA events and activities.
Code of Conduct:
(a)  Be decent and kind to one another,  and treat each other with the same respect you would like to receive.
(b)  Follow all crew members' and officials' instructions without question or hesitation.
(c)  Have fun and participate well.
(d)  Be active in building and promoting the community of cyclocross.
Violations of the Extreme CX PA Code of Conduct:
(a)  Violation of rules established by USAC and WSBA.
(b)  Discrimination or harassment of any type, including on the basis of race, color, religion, age, gender, sexual orientation, gender identification, or national origin.
(c)  Any non-consensual physical or sexual contact or advance or other inappropriate sexually oriented behavior or threatening action directed towards any person. This includes, but is not limited to, physical, sexual, verbal or emotional abuse of any person attending an Extreme CX PA event.
(d)  Any act of fraud, deception, or dishonesty in connection with any Extreme CX PA-related activity.
(e)  Providing alcohol to a person under 21 years of age or the consumption of alcohol by a person under 21 years of age.
(f)  The illegal possession, use or dissemination of drugs or any controlled substances.
(g)  Excessive alcoholic or drug consumption while at Extreme CX PA events.
(h)  Any obscene language or gesture, or other threatening language or conduct directed towards any person at any Extreme CX PA event.
(i)  Any intentional damage to or theft of private or public property while at an Extreme CX PA event.
(j)  Public urination, indecent exposure or any similar inappropriate public display or conduct.
VOLUNTEER
Extreme CX Port Angeles needs plenty of volunteers each year – if you are interested in helping out, please contact us at contact@peninsulaadventuresports.com 
SPONSOR
Peninsula Adventure Sports could not host these events without the support and partnership of the local business community. Monetary donations as well as in-kind product or service donations serve as the backbone of these races. If you want to find out more about sponsorship, please contact us at contact@peninsulaadventuresports.com