Gravel Unravel is an endurance bicycle series on the gravel road systems of Olympic and Kitsap Peninsulas of Washington State.
The Race Experience
Event Guide
What
Gravel Unravel is a 3-race gravel series on the Olympic and Kitsap Peninsulas of Washington State. This event is designed for those who wish to challenge their physical abilities to the maximum while enjoying the lushness of Olympic National Forest and Port Gamble Forest Heritage Park. Participants can ride short (25-35 miles), medium (45-55 miles), or long (65-80 miles) distances on majority gravel courses (percent varies by race/distance) while enjoying towering evergreens and vivid green moss and ferns. There are both competitive and non-competitive Gran Fondo style divisions, and all are welcome to give the Gravel Unravel a try on their own terms. You can race/ride in just one of the events, or all three.
When
April 20, 2024 – Gamble Graveller, Night Owl Cycling
June 15, 2024 – Bon Jon Pass Out
July 20, 2024 – Why-Not-Chee
Where
Pedal and explore the Olympic Peninsula of Washington State on the gravel road systems of Olympic National Forest and coastal State forests.
Who
All riders with a Gravel, Cross or Mountain Bike.  E-Bike riders are also welcome in the non-competitive ride.
The Gravel Unravel Experience
Competitive Divisions
For racers, scores will be combined from all three races for series points and prizes will be given
at the Why-Not-Chee race on July 20, 2024 (must be present to win). Racing categories are
Open, Open Masters (45+), Non-Binary, Womens Open, Womens Masters (45+), Juniors (under
18), and Singlespeed.
Non-Competitive Gran Fondo
Gravel Unravel also has a non-competitive Gran Fondo style. Loosely translated from
Italian as "the big challenge", think of it as more of a group ride or tour. Set your own goal, be it
to go fast or ride for fun, or heck just to finish! E-bikes are allowed in the non-competitive ride as
a separate category. (There is NO Gran Fondo option for Long Course.)
Registration
Pricing is for Bon Jon Pass Out and Why-Not-Chee.
Short Course = $60
Medium Course = $70
Long Course = $80
Junior (under 18) = $35 (any distance)
Race Bundle Get $5 off each race if you register for Bon Jon Pass Out and Why-Not-Chee at the same time.
Gamble Graveller has separate registration.
Check Night Owl Cycling for more and pricing.
What's included?
In addition to an epic outdoor experience in the far northwest corner, all participants receive a
professional, well-organized event, custom race swag, RFID timing, a well-marked course,
on-course snacks and medical support, mechanical support, and post-race food and drinks.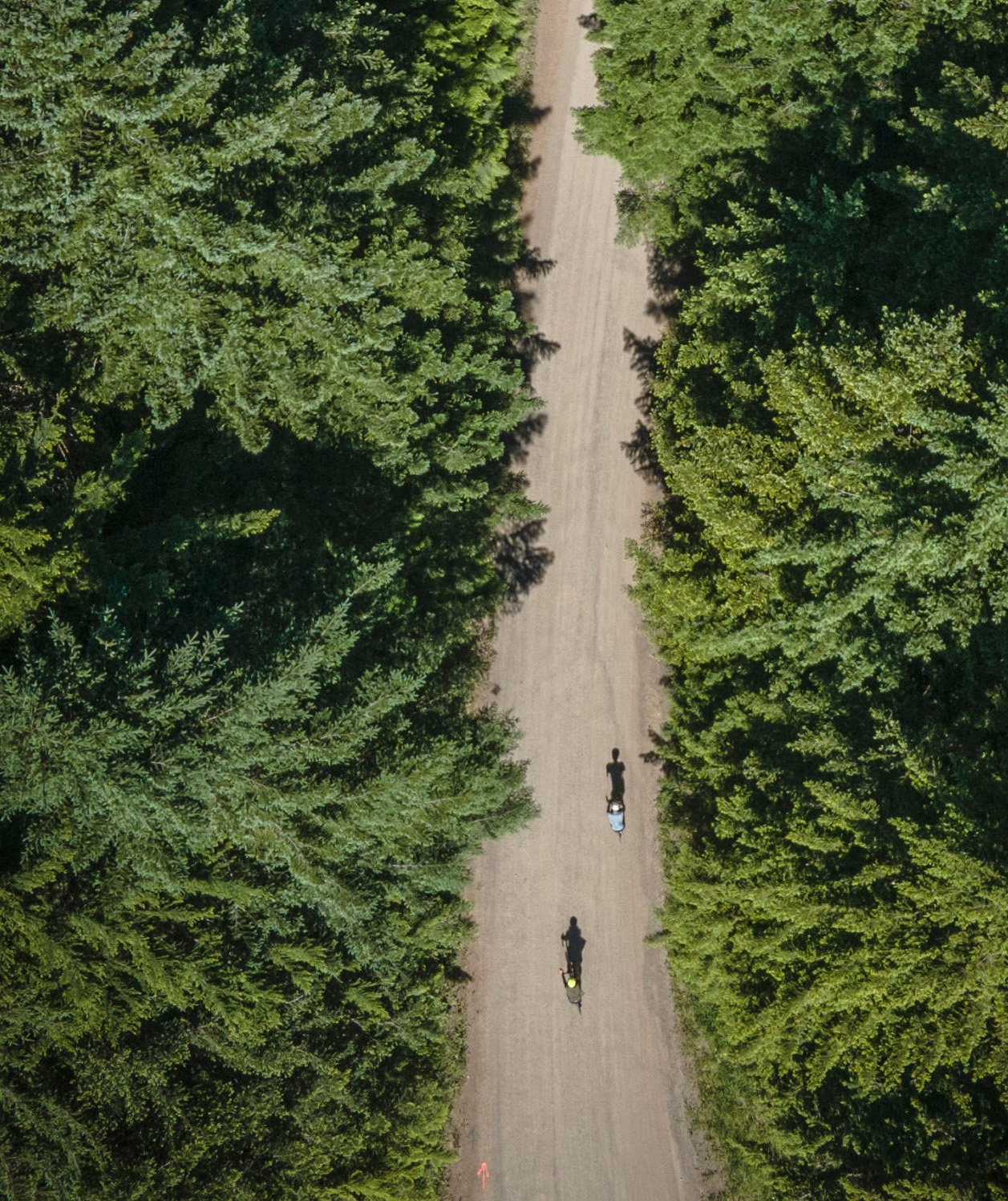 Podiums and Awards
Each race will have podium prices for every competing category for the top three finishers. So if you finish in the top three of your category, don't leave early! Stay for the Podium and your award!
Points are awarded to each finisher in every competing category at the completion of each race and are compiled into your series points enabling you to compete for Series Champion in your category! There are rules that apply however (such as what happens if you change categories, etc) and remember: Consistency is key! At the final race we will have the series ending podium ceremony with awards for the top three finishers of every competing category, so don't leave early on the final race either!
Get your Gravel Unravel Kit
We have worked with Jakroo to design custom Gravel Unravel gear:
The Courses
Courses Subject to Change
Tip: each of these routes is no joke, even the short one – there is a lot of climbing involved, folks.
Important: there is very spotty cell coverage on the course – you will want to download the tracks onto your phone ahead of time.
There will be limited Mechanical Support
Safety & Rules
Helmets and rear light are mandatory.

All roads on the course, paved or dirt are open to traffic. Please use your head and brakes. Yield to traffic if you don't have the right of way.

Remain attentive and curious at all times.

No headphones allowed.

Be kind and helpful to other riders. Communicate when passing other riders.

Riders must carry all the supplies/tools they need for the rides. Outside support is only allowed for riders that need to be removed from the course.

There will be limited Mechanical Support.

Riders are responsible to learn/know/navigate the course. There will be course markings at key intersections, but the reality is that rain happens, lame people mess with markings, things beyond our control, so be prepared to find your way!

Bike Racing/Riding is dangerous. Please use caution and utmost concentration when riding these courses. You are responsible for your safety and the riders around you.

Racers are not allowed to advance on the course by any other means than the two wheeled, non-motorized bicycle that they started on. Cross, Gravel, and Mountain Bikes are all allowed. The best suited bike for the courses will be a cross or gravel bike.

E-Bikes are allowed in the non-competitive Gran Fondo only. Note to E-bike riders: SAG drivers will not pick you up if you run out of battery. Plan accordingly.

The course must be completed as outlined and all check-points must be counted for a rider to be considered an "official finisher"

If you or someone else is badly injured while on course please call 911. Please don't be afraid to give assistance to other racers. Some of the areas of the courses are pretty remote so cell service is limited.

Please adhere to Leave No Trace and retain all garbage from gels, wrappers, etc. Let's leave the forest more beautiful than we found it!
Timing Chips
Competitive participants will need to wear a timing chip. You will be given an ankle strap and will wear the timing chip on your ankle.

Gran Fondo is untimed but we track your return for safety (to know that you are safely off the course)

If you fail to return a chip, you will be charged $20.
What to Bring
Supply Checklist: Required
Helmet
A Navigational device such as Wahoo, Garmin, Hammerhead, or even smartphone.
Red LED Tail light (All riders)
Enough food/water to get from one aid station to another (that may be over 90 minutes and 20 miles)
One spare tube (two is a great idea) even if you are tubeless it's a good idea
Pump or CO2's or both, Tire Levers, Allen key set
Supply Checklist: Recommended
Jacket for wind or rain
Cell phone (recommended rather than required, as there is very spotty cell coverage on the course
Tire Levers, puncture repair kit, chain tool
Food (lots for Grinduro) It will be 6 hours or more for most riders
White LED Front Light
Simple repair items; Chain tool, tire levers, Sealant, Spoke wrench, allen wrenches (don't let the lack of these simple things ruin a great ride)
Small First Aid Kit
Hydration pack (for carrying all the above stuff)
Food And Drinks
Snacks, water, and sports drink will be available at the support stations along the course. There will be food and beer at the end of the race. While we will do what we can to accommodate vegetarian racers, you should bring some of your own food if you have dietary restrictions.
Minding our Manners
We are guests of the parks and forests that we will ride and enjoy. We want to leave the park just as we found it, and we want you to help us by taking care of your own litter and by treating the facilities with care. Please be kind and respectful of any other forest and park users that you may meet.
Awards
The top finisher in each category of the competitive division will receive an award. We don't know what it is. But you'll get something fun.
Refund Policy
There are no refunds allowed and no deferrals to future races

You will have the choice during the registration process to buy cancellation insurance. With the insurance, you will get a full refund should you end up needing to cancel due for any reason

You may transfer to another category – click here for instructions
You may transfer your entry to another person – click here for instructions

If we are forced to cancel for any reason, riders will get a free transfer to the next year, or an 80% refund